In the Moment
Right now I'm thinking about how I feel like I wasted some energy last night in trying to add to what is quickly becoming a bit of an opus for me. More on that project later, but the short of the long is that I don't believe I thought through everything I was doing last night and now I'm ending up writing off all but a few images. The results are not enough to really qualify it as a series within the larger project. Well, at this point I get to look forward to next week.
Believe it or not, this actually segues into my main topic.
This past 28 May found me shooting the Houston stop of the Revolver Golden Gods tour.  The House Of Blues – Houston, where the Golden Gods show was held, only allows photographers in the photo pit (the area inside the barricade right in front of the stage where security keeps watch on the crowd) for the first 3 songs.  If the act starts with 3 songs that are at least 4 minutes each, that gives 12 minutes to get some really good images.  I ended up shooting nearly 800 images in the total 36 minutes I was able to be in the photo pit.
One would think that I would try to find other vantage points from which to shoot the performance after leaving the photo pit.  I thought about it for a bit as I wasn't sure of the venue's restrictions on me going up to the VIP area to shoot the performance.  I decided not to pursue it and put my camera away after leaving the pit each time.
This past February I ran across an interview with Karl Sanders of the death metal band Nile.  He was asked what he thought of the proliferation of cameras at his shows.  Karl answered to the effect that those who have their phones out either taking pictures, video, or texting are really missing out on the performance for which they paid money to attend.  Not only that, Karl feels that those who do that rob others of the shared experience of Nile's performance.  In short, he doesn't like cameras being used at the shows by the fans.
For those readers who may be unfamiliar with the culture of heavy metal – the live performance is considered by many to be a shared experience.  The individuals feed off the energy of the group (performers and audience) as a whole, and the quality of a show often depends on how the crowd experiences the performance, rather than on simply how well the performers did their job that evening.
Last week I came across a link to an article on NPR regarding the proliferation of cell phone cameras and how they could be washing out our memories.  Maryanne Garry, a psychology professor in New Zealand, believes "that the problem is that people are giving away being in the moment." Basically, people are focusing more on documenting a moment rather than being a part of the experience of the moment.  Later on, the memories of the moment becoming distorted because the person doing the documenting wasn't part of it.
Pair the above with the findings of Pyschologist Linda Henkel, who conducted memory experiments with students at Fairfield University in Connecticut.  In one experiment, a group of students were instructed to merely observe some objects while others they were to photograph.  Henkel reports the following:
"The objects that they had taken photos of — they actually remembered fewer of them, and remembered fewer details about those objects. Like, how was this statue's hands positioned, or what was this statue wearing on its head. They remembered fewer of the details if they took photos of them, rather than if they had just looked at them."
Henkel asserts that the students "outsourced" their memories to their respective cameras.
It's a reasonable assumption that Karl Sanders has met neither Maryanne Garry or Linda Henkel, but they are all 3 on to something with their observations (in Karl's case, a belief) on photography.  It was thinking about these things that caused me to put my camera away after each exit of the photo pit.  I decided I wanted to be in the moment for the rest of each artist's performance.
Being a visual artist myself, I can't help but notice images in front of me at times, even when I don't want to see one.  That was the case with this right here: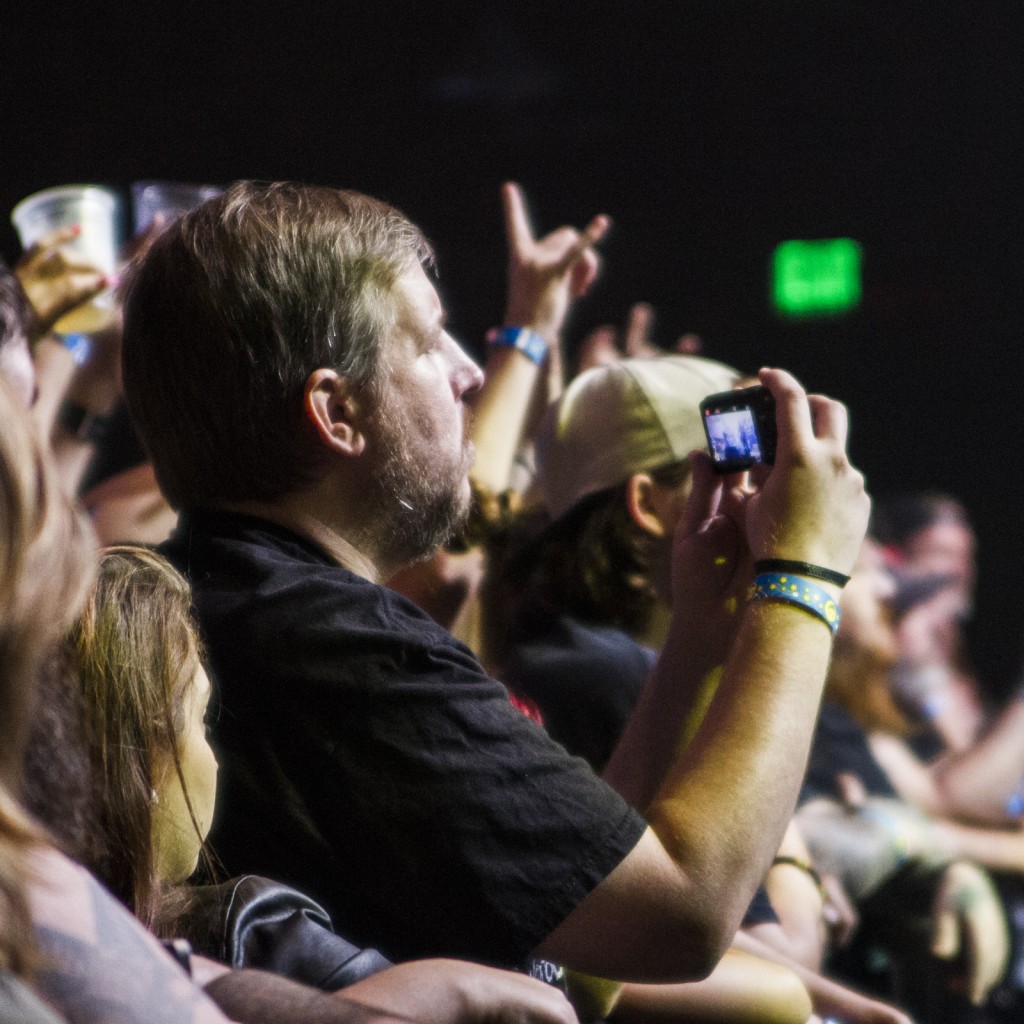 I observed this gentleman for a few minutes during the second artist's performance.  He was watching, and I can safely assume recording, the entire show through his point and shoot camera.  I found myself astonished that this man paid hard earned money only to come in and record the show on his camera.  He wasn't in the moment at all.  I also wonder how his memory is shaped now that he really didn't take in the experience of the live musical performance –  he only documented it – and how much different it would be if he had put the camera away.  He recorded the rest of the show as well, watching the entire thing through the 2.5 inch screen on his camera.
During the headliner's performance, the band's frontman, Zakk Wylde, did an extended guitar solo.  At one point he came over to stage left, which was where I was situated, to continue the solo.  I watched for a few seconds, taking in his amazing guitar skills.  I then looked to my left and observed this: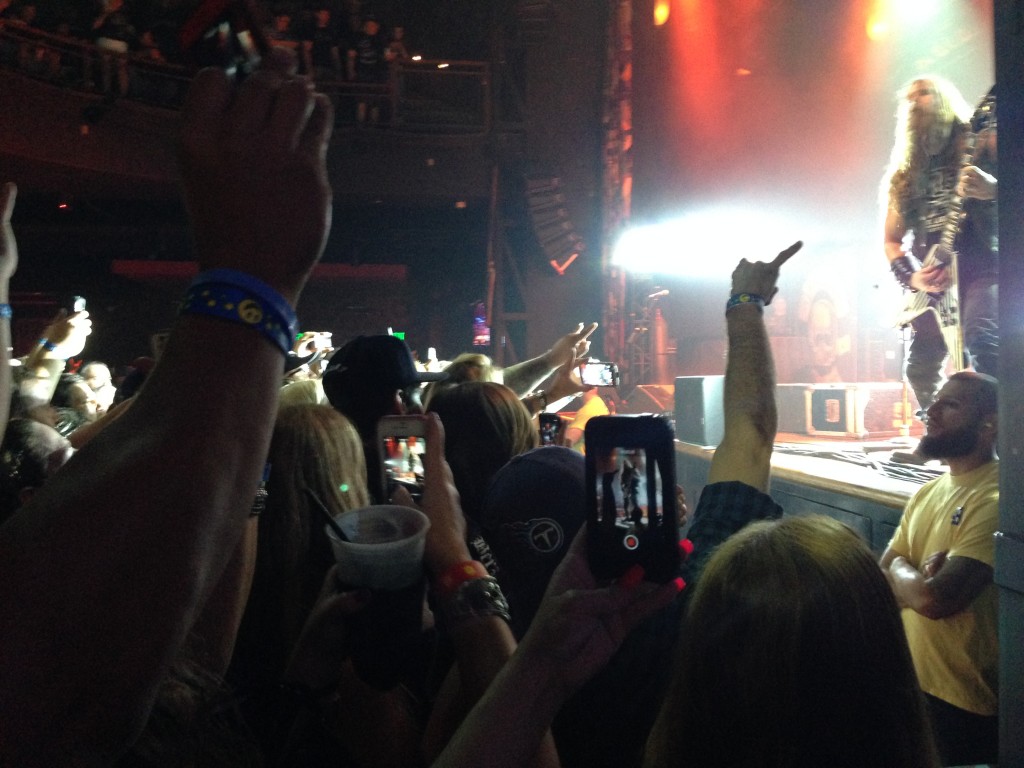 The number of cell phones out recording this guitar solo blew my mind.  All these people, who paid money for this experience, were not even experiencing it because they were focused on the recording.  As for myself, I was caught between 2 moments, and chose to document this one precisely because of what I had been thinking about earlier in the show concerning the previous image.  And my thoughts are the same – how have their memories been affected by their documentation of the experience?  I felt it was only appropriate to use my cell phone for this particular image.  I want to show that I'm not particularly immune to this phenomenon.
As for me, the labor of photographing, editing, and processing the images of the concert was my payment for entry.  It was my job was to make images of the show.  To me, being in the moment was a bonus payment from the organization that sent me to the concert.
What have I learned from this experience?  I found myself taking a slightly different approach to the editing process this time around.  In that, I found this little gem of an image of Zakk Wylde: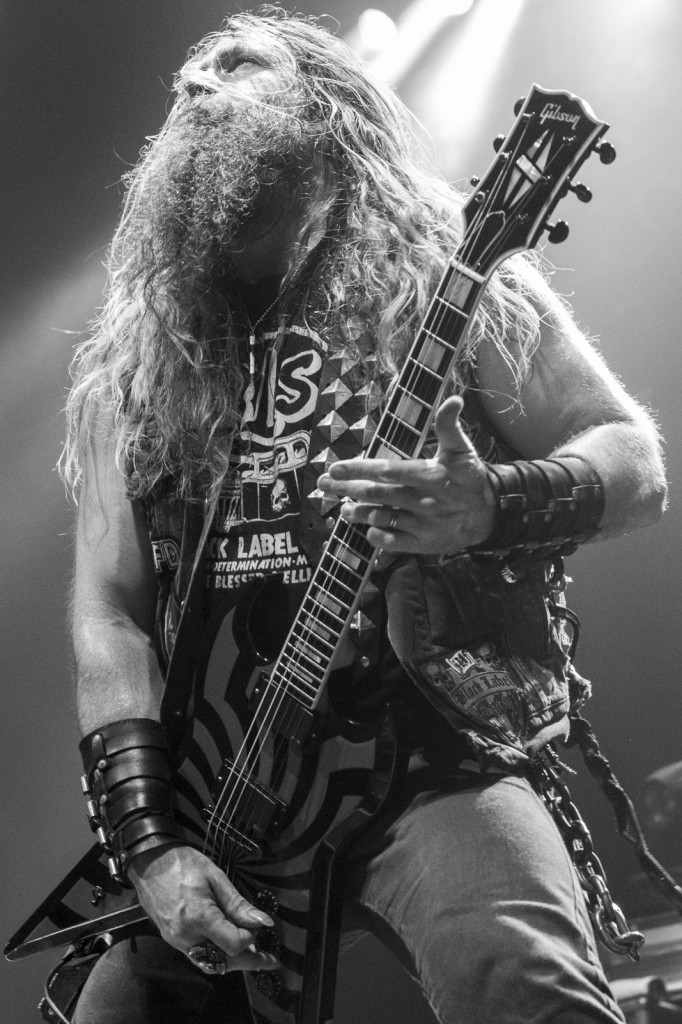 As for the wasted evening, I did manage to salvage at least 1 good image from the heap: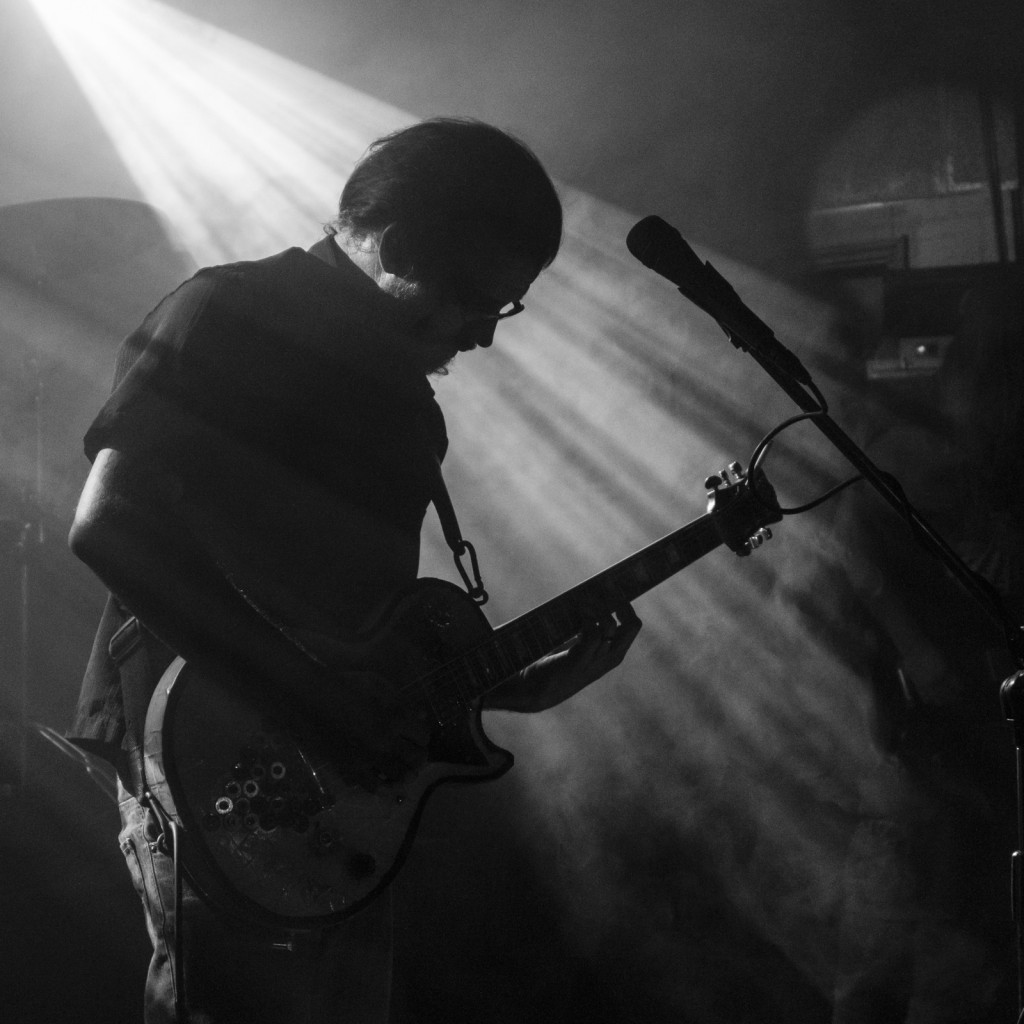 So, I guess the night wasn't a total loss.  But there's one important thing to remember – I paid money to be at this particular show, and I was choosing to document it.  Could what I've learned in the past week be behind why I feel I have to write off most of the images I took this night?  Time will tell on that one.
On a personal note – I've long believed that some technologies are making us more stupid.  We are outsourcing a lot of our brain functions to electronic devices, which at times seems a little scary.  I actually observed a PhD Art History professor use Google to get to YouTube.  This person actually went to the search bar, typed "youtube," and had to check the search results to make sure that the chosen link was to YouTube.  I was rather dumbfounded by this, but I digress.
Karl Sanders Interview With Metal Wani