Magical Morning by Magnus Lindbom
Magnus Lindbom is a self-taught professional photographer from Sweden.  He earns all his money from photography-related work such as writing articles for publication, leading photo tours and workshops, and selling prints.  His goal with photography is "to inspire others to venture out into nature and experience for themselves what so many of us are missing in today's hectic urban life".  His concentration on landscapes (both color and black and white) have given us some amazing photos which seek to capture feelings rather than the place it was shot.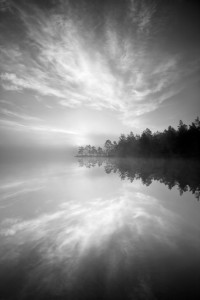 This photo, entitled "Magical Morning", was taken at Tyresta National Park in Sweden.
The first thing that jumped out at me was the serenity that this photo conveys.  The mist on the water hides any ripples that would convey energy while allowing the reflections of the clouds and trees to come through with good clarity.  The gradations in the tone are nice and smooth, which definitely adds to the feeling of witnessing a serene morning sunrise.  As the scene appears to be backlit, that makes the gradations of tone (not to mention the great exposure) all the more impressive.  While I'm not a fan of placing the horizon in the center of the frame (something I have been guilty of more than once in the past), here the mist blurs the horizon enough to make one have to imagine it's there.  In turn, the mist also makes obvious where the water meets the land.  While this helps the viewer see where the reflection begins, it does put a damper on what would have been the appearance of the land floating in the air.  In terms of composition all three elements (land, water, and air) are in good balance, with all three competing for, but none winning, attention.  The symmetry of the land and its reflection are almost insignificant when the photo is taken  as a whole.
All in all this is one of the best entries in this year's "Folios" edition of Silvershotz.  The tones and mist definitely convey a sense of serenity and calm, enough so that the location of this scene is the very last thing I thought of when I looked at this photo.
More of Mr. Lindbom's work can be seen by clicking here.
Anyone else have any thoughts?